Mika Richards says La Liga president Javier Tebas's reaction to the racist abuse of Real Madrid striker Vinicius Junior "makes my blood boil".
Vinicius has been the target of racial abuse several times this season and the latest incident has seen him receive support from the footballing world.
There were widespread condemnations of the way the incident was handled, including one from the Brazilian government.
After the match, Vinicius and Tebas got into a row on Twitter, after the Brazilian said that La Liga "belongs to racists" and "In Brazil, Spain is known as the country of racists."
Tebas responded by saying that Vinicius did not appear twice for the meeting to discuss what he could do in cases of racism, adding: "Before you criticize and denigrate La Liga, you have to properly inform yourself."
Javier [Tebas] He's tried to make himself the victim in all of this, it's very embarrassing what he said in his statement," the former Manchester City and England defender said. Richards told BBC Radio 5 Live's Monday Night Club.
"It makes my blood boil and that's part of the problem. It's not just a football issue, it's life that people go through every single day."
Real Madrid CF reported the attack on the 22-year-old as a hate crime to the Spanish Public Prosecutor's Office. Spanish prosecutors will now decide whether to pursue a criminal investigation.
On Monday, the lights were turned off on the statue of Christ the Redeemer in Rio de Janeiro for an hour, in cooperation with the Brazilian Confederation and the Observatory of Racial Discrimination in Football.
The Diocesan House, which administers the monument, said it "denounced" the racism Vinicius faced, adding: "The lighting of the monument will be turned off as a symbol of the collective struggle against racism and in solidarity with the player and all those who suffer prejudice around the world."
Vinicius said on Instagram: "Black and strong. I hope this image of Christ statue symbolizes our struggle. Thank you so much for all the love. I will always be willing to fight for our ideals."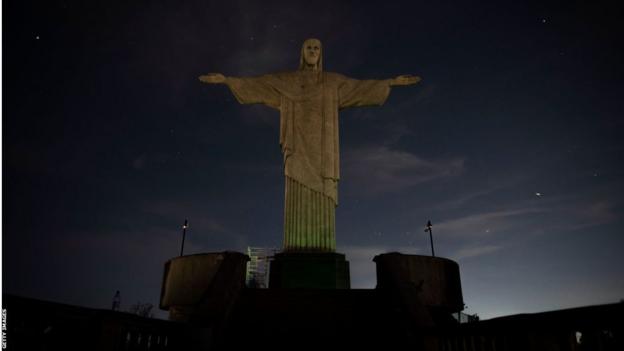 "What chance do we have?"
Richards said that measures taken to try to curb racism in the game "didn't work".
"People don't care enough, and that's the problem," he added. "If people cared, they would do something about it.
"It's not about knee-highs or Kick it Out shirts because they don't work. I'm tired of talking about the same things happening over and over again.
"Enough has been said. The people who need to sort themselves out are the ones acting racist. Until harsher punishments are implemented, it will always be the same.
"If Javier thinks like this, what chance do we have?"
Fellow pundits and former Blackburn and Chelsea striker Chris Sutton have called for Tebas to be sacked.
"When you have someone in such a powerful position, to make a Twitter spat with Vinicius Jr., to tell him he's wrong, it's clear to everyone that this situation has to change," he said.
"This is a starting point."
"This is not football, it is inhuman"
In a new post on social media on Monday, Vinicius recounted his instances of abuse this season and said they were not "isolated cases".
"What's missing to criminalize these people? And punish the clubs sportingly? Why don't the sponsors blame La Liga? Don't the TVs bother to broadcast this barbarity every weekend?" He said.
He added, "The problem is very serious, and press releases are no longer useful. Don't blame me for justifying criminal actions. It's not football, it's inhumane."
Commenting on the post on Instagram, Burnley manager and former Manchester City defender Vincent Kompany wrote: "My heart bleeds when I see these pictures.
"Our fathers, mothers, grandfathers and grandmothers have endured so much…and the fight is not over yet. Our children will not grow up in a world where discrimination and hate reign. They will know their worth and will never kneel down to those who choose to discriminate, separate and hate. Vinicius, you are not alone. We stand Together we are stronger than ever."
Poor treatment of Vinicius Junior this season
September 2022 – Some Atletico Madrid fans sang racist songs towards Vinicius outside the Wanda Metropolitano stadium before Real Madrid played it in September 2022. Atlético Madrid later condemned it "Unacceptable" chants by a "minority" of fans.
September 2022 – Some pundits in Spain are criticizing Vinicius' goal celebration, in which he dances with a corner flag. answered By saying "the happiness of a black Brazilian in Europe" behind this criticism.
December 2022 – It appeared that Vinicius was subjected to racist abuse in Valladolid as he walked past fans after being substituted. La Liga said it had filed charges related to the racist attack against Vinicius before the "relevant judicial, administrative and sports bodies".
January 2023 – Real Madrid winger statue He was suspended from a bridge near the club's training ground before facing Atlético de Madrid in the Copa del Rey. Atletico said the incident was "abhorrent".
February 2023 – Mallorca fans have been filmed being racially abused The Brazilian during a match against Real Madrid.
March 2023 – La Liga said that "intolerable racist behavior was observed again against Vinicius" in a match against Barcelona and he reported the racist insults to the Barcelona Guidance Court.
May 2023 – Vinicius is subjected to racist abuse against Valencia.