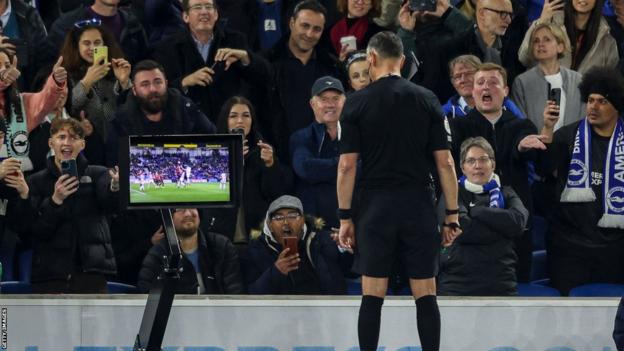 Chief Referee Howard Webb says audio for VAR decisions is "a small step forward" in providing clarity about incidents.
The implementation of VAR has been questioned and criticized by managers, players and pundits throughout the Premier League season.
In a bid to improve transparency, Webb appeared on Sky Sports to talk about how key decisions were reached, along with pundits Jamie Carragher and Gary Neville.
"We look forward to doing that [release audio] As much as we can," Webb said on Monday Night Football.
"Obviously tonight is something new. We're taking a small step forward. Moving forward into next season, we're looking forward to doing more of the same.
"We can't play it live, FIFA doesn't allow us to play it during a match – who knows where that might happen in the future – but there's nothing stopping us from showing that information at a later time."
In-game audio has been released by Professional Game Match Officials Limited (PGMOL) from six matches this season, with supporters getting to hear the discussions before Webb offers further insights.
Newcastle 0-2 Arsenal – VAR overturns penalty decision (May 7)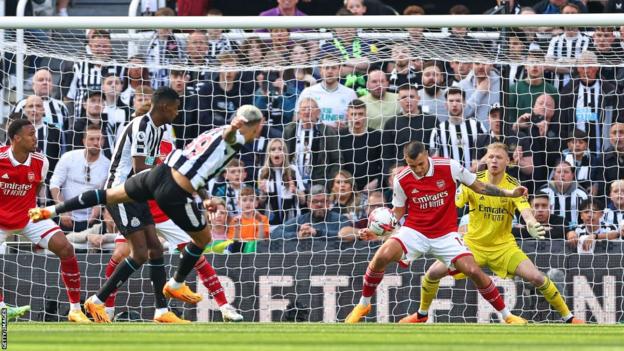 What happened?
Referee Chris Kavanagh awarded Newcastle a penalty for handball when Bruno Guimarães' shot deflected off Jacob Quewer, but VAR Michael Salisbury overturned the decision with a replay showing that the ball had hit the defender's groin before any contact with his arm.
What was the reaction at that time?
Speaking on BBC Radio 5 Live, former Liverpool defender Stephen Warnock said: "It came off the groin and then into the arm, it's definitely not a penalty. I don't know why the Newcastle fans are so upset."
What was discussed?
Video Assistant Referee (VAR) Salisbury:We will check the penalty for you.. Can you make sure it's the arm and doesn't hit the thigh first? We need to make sure it's not his thigh.
"It looks like the thigh is on the arm. So the arm, for me, is in a normal position. The ball comes out of the thigh and you make a movement in that arm. I don't think it's not a penalty.
"I'm going to recommend an on-field review of the penalty you awarded. What we're showing you is the impact of the ball and the position of the arm."
On-field referee Kavanagh: "So we have a knee deflection first. Show me again. The arm is close on the inside, my initial reaction was the arm is out, so I'm going to resume shooting the ball to the goalkeeper."
Web Explanation:
"There are two things about this. The ball clearly hits the thigh – it moves the shorts – and also the arm returns to the body and makes the player smaller. The arm is not in the position the referee thought.
"I am really keen to make sure that our use of VAR is consistent. This is a good use of VAR because it is different from what the referee saw. There are still some cases where the referee has to review the decision on this matter."
Chelsea 0-0 Liverpool – VAR overturns Havertz's goal (4 April)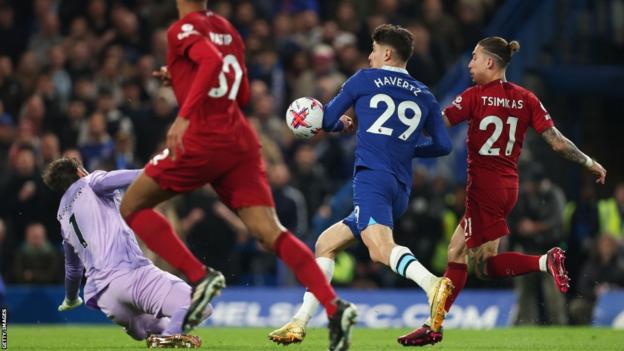 What happened?
Kai Havertz's goal was disallowed for handball after VAR Kavanagh informed referee Anthony Taylor that the ball had hit the Chelsea striker's arm after his initial shot had rebounded off goalkeeper Alisson.
What was the reaction at that time?
Speaking on BBC Radio 5 Live, former Arsenal defender Matt Upson said: "You can see on the replay he's holding his elbow up. It's a really good save from Alisson as he stays big and comes out of Havertz's arm and back into the net."
What was discussed?
Field Referee Taylor: "The decision on the pitch is the goal because I think it hits Havertz's chest."
VAR Kavanagh: "It's realistic. Just put it on your arm. Right, that's the arm clearly. I recommend you don't allow the goal. It's a handball, it drives straight into the net. It's real."
Web Explanation:
"It's an opportunity for the VAR officials to see something they couldn't judge on the pitch. You hear Taylor say he thinks he hit the chest, but we know if he hits the arm it has to be disallowed.
"In this case, the referee does not need to see the screen because it is realistic. There is no need for any other explanation."
"Instead of wasting time by sending the referee to the screen, we flip the decision over there and then try to be as efficient as possible."
Brentford 2-0 Bournemouth – the VAR fails to disallow the penalty kick (14 January)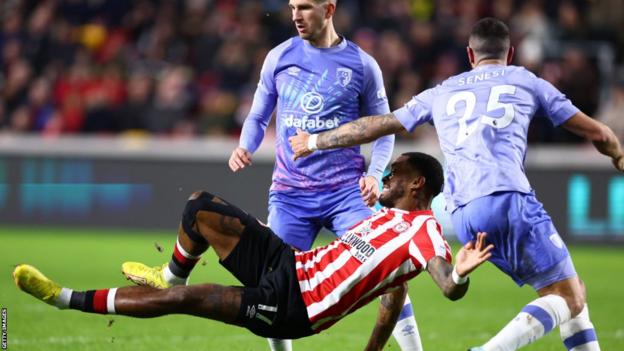 What happened? Referee Khared Gillett awarded Brentford a penalty for a foul by Marcos Sinise on Ivan Toni, a call which was upheld by the VAR, although Toni appeared to be holding the defender's arm before the foul occurred.
What was the reaction at that time? Bournemouth manager Gary O'Neill described the referee's decision as "scandalous", adding: "I don't know how I got the VAR wrong". But speaking to BBC Radio 5 Live, former Wales defender James Collins said it was an "obvious penalty" and "very clumsy".
What was discussed?
Referee Gillette: Second. He grabbed his arm around him and pulled him down.
VAR Marriner: "There's enough to back that up. Check for completeness."
Web Explanation:
"I don't think there is anything to indicate that this is an obvious mistake, but we are clearly checking not only the final action but also the stage leading up to this decision.
"In this case, we see a foul by Toney on Senesi, before Senesi puts his arm on Toney. He doesn't start the sequence early enough. It's a matter of operation rather than the referee. Toney locks and traps his hand and that should be a free-kick penalty for Bournemouth.
"We know that long scans can cause some frustration but we hope that by playing these audio recordings, you can see that there is a process.
"We cannot sacrifice accuracy for speed. In this case, VAR did not accurately analyze the entire sequence that led to that contact between Toney and Senesi. If it had been, it would have shown the action by Toney and led to the penalty being overturned."