The weather in Taipei is no joke, y'all. A few days in town for Computex 2023, and I feel like I've already lost half of my weight, not from walking all day every day but from all the sweat pouring out of every pore on my body. It was a struggle, and you can imagine how tempting it was for me to plant myself in every spot where there was a nice cool draft or where the air conditioner was blasting.
So when I decided to stop by the Cougar booth to check out what's in the lineup this year, it seemed like great timing when I was offered a seat in the new Cougar NxSys Aero, a throne known to come with a built-in fan to keep its rider nice and breezy during intense moments.. You know, like Computex.
The Cougar NxSys Aero is, for all intents and purposes, a gaming chair and not just designed for the wet Taipei weather. While brands like Cooler Master really stick to gaming chairs that do everything but fly — well, at least not yet anyway — especially with the new Motion1 gaming chair that seems to be the talk of the town now joining previous versions like the Orb X and Synk X, the Cougar keeps the basics.
And while it's not a great product that draws crowds at a conference, it's definitely something a lot of gamers need.
Not a new concept
The idea of ​​adding cooling or even heating to a chair isn't entirely new. Cooler Master also does something similar, so does Mavix, and so does this one A random gaming chair on Amazon that blows air in your buttAnd this is very strange.
But Cougar claims it's doing something different with the NxSys Aero in that not only does it come with a built-in 200mm fan, positioned inside the backrest to direct air towards its occupant's back, but the middle of that backrest is also made of elastic mesh with a ventilated back cover, so that no You only get that gentle breeze where you need it most, but you also get to enjoy breathable hammock-like support.
The other aspect that sets it apart is the fan's ARGB, which means you can switch up the lighting to suit your mood or match your existing aesthetic. I'm not entirely sure, though, if Cougar plans to roll out app support to make the lighting fully customizable. Currently, it only has an RGB lighting button on one side of the backrest that allows you to cycle through the seven different effects available. But a lot could happen between now and its launch later this year.
As for when this happened, Cougar isn't specific.
Nice cool cool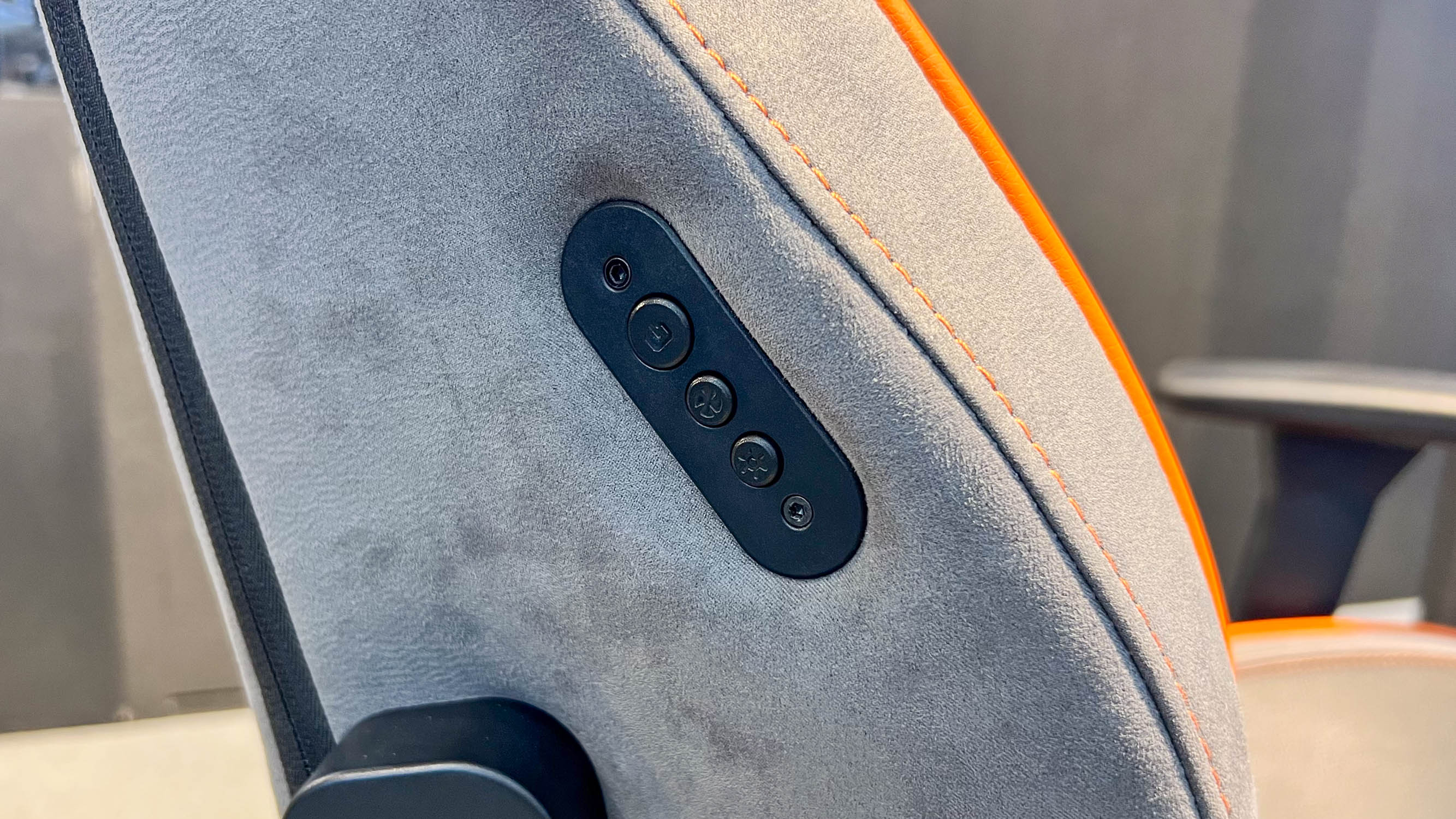 I know the idea of ​​a fan constantly blowing on your back from this close seems a little unsettling, but it's not the same as standing in front of a running fan with your back to it. The truth is that I, too, was hesitant at first, but didn't really feel like a fan there.
In fact, I hardly felt the breeze at all. I was getting a gentle, gradual cooling sensation, as if there was a cooling pad there instead of a fan. And I'm sure Cougar designed it that way so it doesn't traumatize your system, and you won't feel the need to constantly fidget with the controls because you get so much air on your back.
Even more impressive, Cougar representatives told me it can run for up to 50 hours on a fully charged 20,000mAh portable battery, which it stores in the battery compartment in the back. This is a great design choice because not only does it provide longevity, but you also don't have to worry about tripping over a cable because you have to keep it plugged in or charge it constantly because the battery won't last long – the Elemax controller on my Mavix M9 wouldn't even last half a day! The only catch is that you have to buy this power bank separately as it is not included in the package.
More affordable than I thought
Fortunately, the Cougar NxSys Aero won't cost you much. Of course, I can't tell you for sure that it's a worthwhile investment. During my short time at Computex, it was comfortable and efficient. But only after I go through her steps can I really know if she lives up to what she promised or not.
However, according to Cougar Fashion, this chair is only $399, which puts it in the same price range as some of the best gaming chairs on the market. So even if you rarely turn on this fan, you're still getting your money's worth.