main events
In other news, Vladimir Putin said Russia would replace Ukraine's grain exports to Africa, after Moscow exited an agreement allowing them to be shipped safely.
In a statement posted on the Kremlin's website, the Russian president said Russia will continue its "relentless efforts to provide supplies of grain, food products, fertilizers and other goods to Africa," according to Agence France-Presse.
I want to give assurances that our country is able to replace Ukrainian grain both on a commercial basis and free of charge.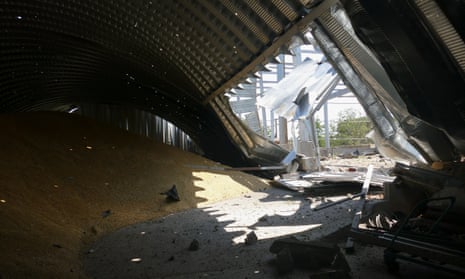 Moscow last week left the year-old agreement allowing exports of Ukrainian grain after complaining that a related deal allowing exports of Russian food and fertilizer had not been honored. Moscow later said it would consider cargo ships bound for Ukraine via the Black Sea as possible military targets.
The African Union expressed its "regret" over Moscow's decision to terminate the grain export deal.
Later this week, the Kremlin said, Russia will host a second Russia-Africa summit and a Russia-Africa economic and humanitarian forum.
The drone attack in Moscow comes a day after Ukraine vowed to respond to a Russian missile attack on the Black Sea city of Odessa.
Russian forces have struck Odessa repeatedly since Moscow withdrew last week from an agreement allowing Ukrainian grain to be exported through the Black Sea. The latest strike on Sunday killed two people and severely damaged Odessa's historic Transfiguration Cathedral.
Agence France-Presse reported that the Ukrainian government condemned the cathedral attack as a "war crime", saying it was "destroyed twice – by Stalin and Putin".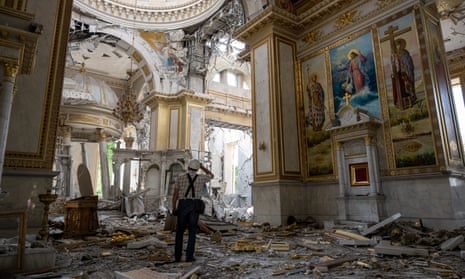 President Volodymyr Zelensky vowed revenge, saying on Sunday:
They will definitely feel it. We cannot allow people around the world to get used to terrorist attacks.

The target of all these missiles is not just cities, villages and people. Their goal is humanity and the foundations of our entire European culture.
On Monday, the Russian news agency TASS reported that a drone crashed on Komsomolsky Prospekt in central Moscow, near the Ministry of Defense, while another plane hit a shopping center on Likhacheva Street, on one of Moscow's main ring roads.
Moscow and its environs lie 500 km (310 miles) from the Ukrainian border but have been hit by several drone attacks this year, with one hitting the Kremlin in May.
Some pictures from around the scene of the drone strike in central Moscow: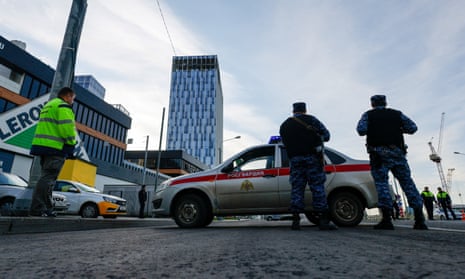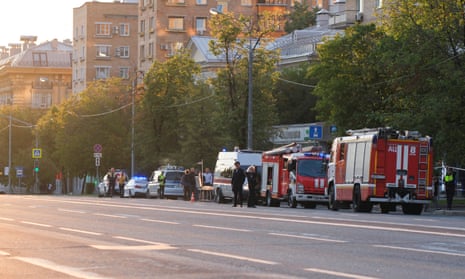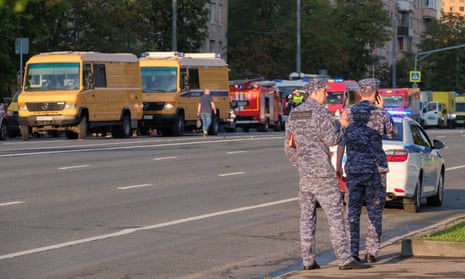 The Russian Ministry of Defense confirmed that there were no casualties in the drone attack in central Moscow.
It said on Telegram that it thwarted the attack with two drones.
By means of electronic warfare, two Ukrainian drones were suppressed and crashed … There were no casualties.
Russian Telegram channels linked to the FSB have reported that residents of several neighborhoods in the southwest and south of Moscow have reported the sounds of explosions, Reuters reports.
Komsomolsky Boulevard is located near the buildings of the Russian Ministry of Defense in the Central Administrative District of Moscow.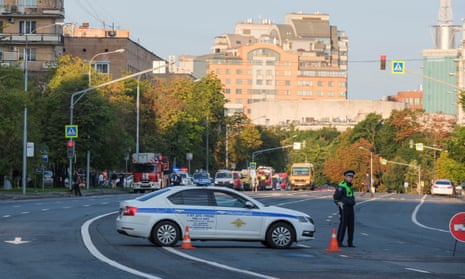 Russia's state-owned Tass news agency reported that the wreckage of a drone had been found in central Moscow.
An emergency official was quoted as saying early Monday:
On the 17th, Komsomolsky Prospekt, the wreckage of a drone was discovered. According to preliminary information, there were no injuries.
The official said law enforcement agencies and emergency services were working at the scene.
Hello, and welcome back to our ongoing live coverage of Russia's war on Ukraine – this is Adam Fulton.
Moscow's mayor said that drones struck two non-residential buildings in Moscow around 4 a.m. (0100 GMT) on Monday.
"There were no serious damages or injuries," Sergei Sobyanin said via Telegram.
The Russian Defense Ministry said that the air defense forces thwarted the attack, and two drones were intercepted and destroyed.
In other key developments: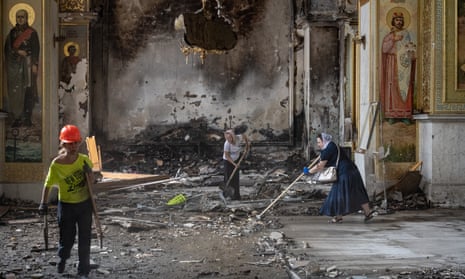 Russia's president, Vladimir Putin, says Ukraine's counterattack has "failed" It hosted Belarusian leader Alexander Lukashenko, his close ally, for talks in St Petersburg. "There is no counterattack," Russian news agencies quoted Lukashenko as saying on Sunday, to which Putin replied: "It exists, but it failed." Ukraine launched its counter-offensive last month but has made only small gains so far.

Lukashenko claimed that Minsk was "controlling" the situation with fighters from the Wagner mercenary group And restrict them to stay in the center of the country. Belarus is hosting Wagner fighters on its soil after it brokered a deal after Wagner chief Yevgeny Prigozhin ended a short-lived uprising last month in return for safe passage into exile in Belarus.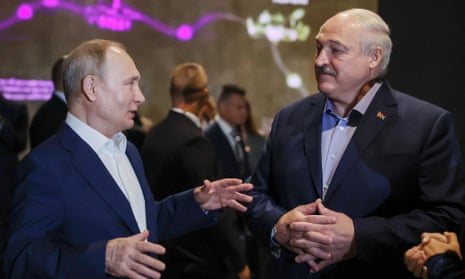 Ukraine's Foreign Minister Dmytro Kuleba said Kiev and Warsaw will "always stand united" after Vladimir Putin and Alexander Lukashenko Poland was accused of having territorial ambitions. "Putin's attempts to drive a wedge between Kiev and Warsaw are as futile as his failed invasion of Ukraine," Kuleba wrote on Twitter on Sunday. "Unlike Russia, Poland and Ukraine have learned from history and will always stand united against Russian imperialism and disrespect for international law."

Ukraine claimed that Russia bombed a cultural center in the Donetsk region with cluster munitions Sunday morning. The Defense Ministry said the center in Shasiv Yar housed the "humanitarian headquarters" and was used as a point for distributing aid to civilians.

A meeting of the new NATO-Ukraine Council, expected to address Black Sea security, is scheduled for WednesdayPresident Volodymyr Zelensky said on Sunday. NATO spokesman Owano Lungescu said earlier that the previously announced meeting, which Zelensky requested in a phone conversation with NATO chief Jens Stoltenberg, would discuss the situation after Russia withdrew from the year-old pact on Ukrainian grain exports.