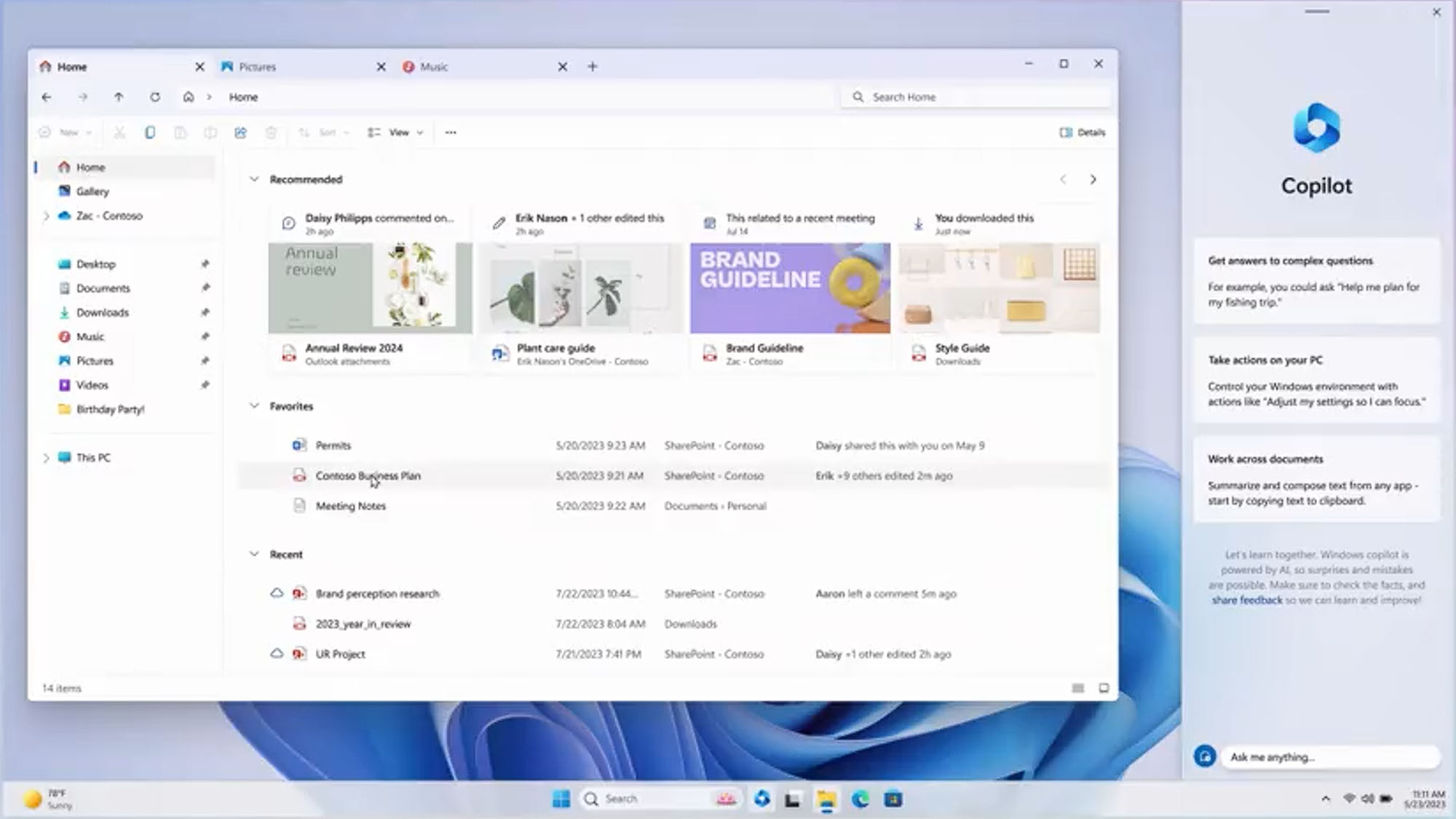 We got a brief tease this week about a new layout for Windows 11 File Explorer, courtesy of Microsoft's Build event.
File Explorer's new redesign featured File Unveiled by Microsoft on Twitter To show how AI-powered Copilot features are integrated into various Windows 11 apps and platforms.
Today, we're announcing new AI experiences and tools for #Windows11 to empower developers. Pumped to introduce you to Windows Copilot and Dev Home. #MkqiKKtuFg https://t.co/MkqiKKtuFg pic.twitter.com/pf1H3o1tyWMay 23, 2023
See more
Microsoft has been tinkering with its File Explorer interface for a while now, since a lot of it is still held over from the Windows 10 era, beyond the updated UI Microsoft introduced in 2021. As Windows Central notes, the changes are part of WinUI 3 to improve The interface is for both mouse and touchscreen input, with rounded interface objects and additional blur effects that allow it to blend in more precisely with the rest of the operating system.
It looks like the details pane and the folder view itself will get improvements, including an updated photo gallery view. There will be an update to the search bar, and all action buttons will look like they're going to the title bar as well.
Can Microsoft Avoid the Sins of Previous File Explorer Updates?
Microsoft hasn't always had good luck with its File Explorer updates, with significant issues around memory leaks and other performance issues already hampering previous updates.
The biggest problem here is mostly that File Explorer is one of the most used features of Windows 11, so any issues will be harmful and noticeable.
But Microsoft is making consistent improvements to File Explorer that are generally excellent, such as the inclusion of folder tabs and a better view of details, and the reintroduction of folder previews (which shows Microsoft is at least listening to its user base).
There is no reason why Windows 11 File Explorer should be a problem. However, Windows 11 problems are and remain omnipresent, despite steady improvement over the past couple of years.
And Microsoft's insistence on begging you to use Microsoft Edge is unbearable, I don't have many complaints about the operating system anymore. I think Microsoft is probably on the right track with its new File Explorer redesign, and I'm looking forward to what Microsoft has to offer once the new UI is released to the public at large.