The Candy Man, by British photographer John Enoch, won the overall prize in this year's Pink Lady Food Photographer of the Year competition.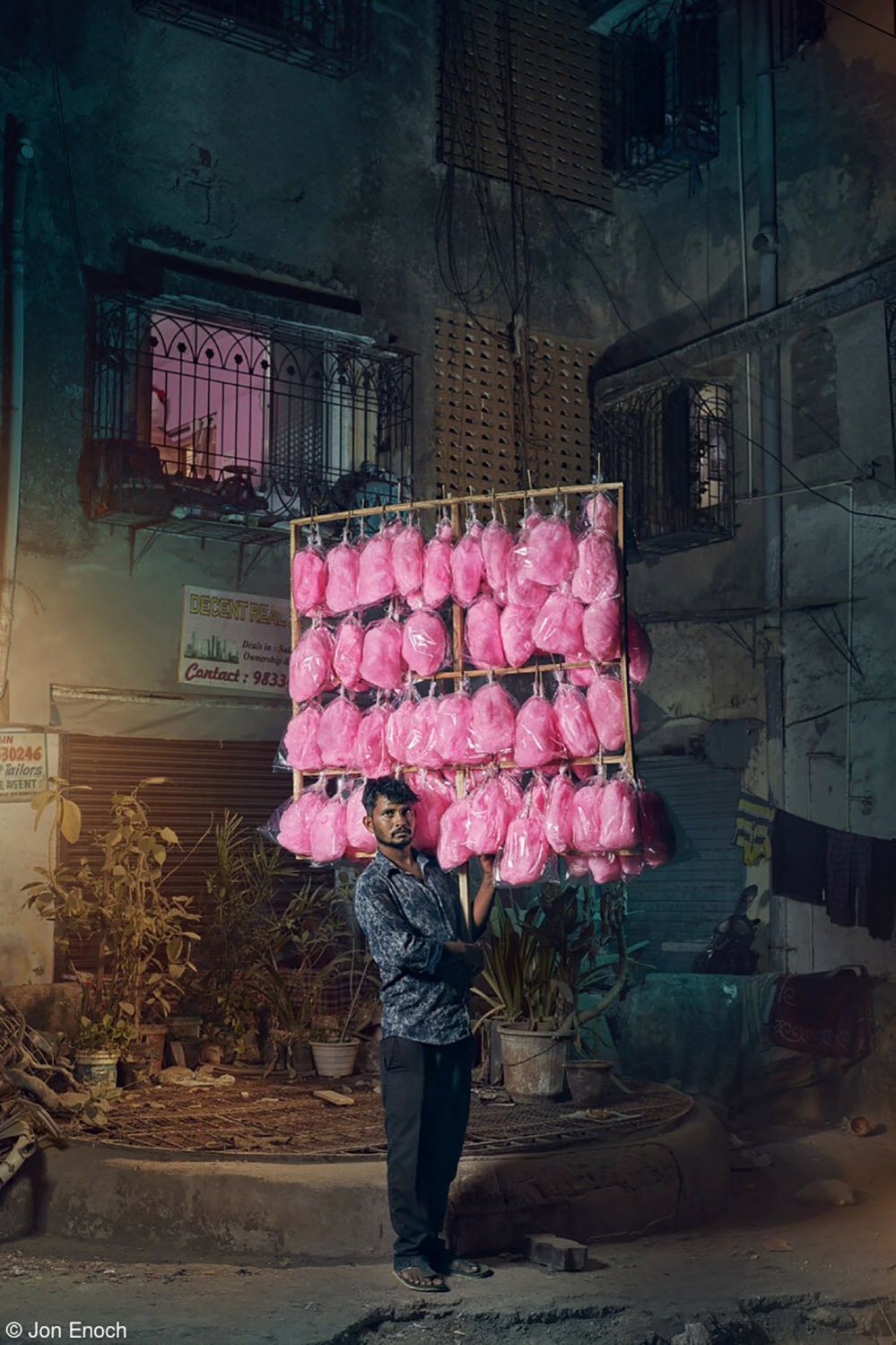 The image was taken on the streets of Mumbai and is part of a wider series of images of vendors displaying sweets in a variety of ways in hopes of attracting a buyer.
"I am delighted to receive this award," says Enoch.
"The winning image was part of a personal project – it took an enormous amount of time and thought to capture, so it's great to be recognized by the esteemed panel of judges. Ever since I first saw candy floss sellers, I've been drawn to shapes, colors, and juxtapositions between candy and an urban environment." .
Below are some of the competition's category winners, with descriptions by the photographers.
Bringing Harvest Class Home: Into the Storm by Khan Van Thi, Vietnam
When I got to Lap Ann Lagoon, the storm came.
"The people who were with me were very afraid of the lightning, but I stayed to witness the change of the storm when heaven and earth seemed to be connected by wind and water.
"I tried to stay calm, forget my fear, and shoot at this moment."
Claire Aho Photographer Award: Food's Kitchen by Carla Sutera Sardo, Italy
"Adua's Kitchen is part of a trip down memory lane for an 86-year-old woman who had to leave her home for her entire life during the Covid pandemic."
Errazuriz Wine Photographer of the Year: Girl after emptying a tank at the end of fermentation by Thierry Gaudillère, France
A girl rests after emptying a vat after fermenting grapes at a vineyard in Burgundy.
"Physical and tiring work."
This photo was taken from my visit to the Shwe Gu Orphanage in the ancient city of Bagan, Myanmar, in 2018.
"I visited this monastery for three days and observed their daily routine. Most of these children have lost their parents and do not have a family.
"They are training to become Buddhist monks."
Pink Ladies Moments of Joy Category: Hanging persimmon from Zhonghua Yang, Taihang Mountains, China
"This year's persimmons are harvested, peeled, dressed, and hung under the eaves in bunches, waiting for the persimmons to soften and harden, in the hope that they will fetch a good price in the new year."
Food category for the family: Spurping Spaghetti from Catherine Falls, Ireland
"Spag bol is always a winner in our house and leftovers are enjoyed for lunch the next day," my youngest daughter explains in this photo.
Food in the Field category: Dinner's Ready from Philip Pizano, UK
"A pig takes a nap in a hole, meanwhile her piglets are feeding in the hot weather in Palenque, near Cartagena, Colombia."
Food Designer Award: The Aftermath by designer Keiron George and photographer Frankie Turner, UK
This photo is one of several in the Beauty in Destruction collection.
In the Phone category: Bonnet Delights from Hein van Tonder, UAE
Street food on a Saturday afternoon in Galle Fort, Sri Lanka.
Pink Lady Food Photographer of the Year (China): Anchang Sugar Dance Artist from Zhonghua Yang, China
"Sugar pulling is a local specialty.
"This process is very skillful and it seems that the master is dancing when he pulls out the white sugar."
Food Policy Category: Ramadan Meals Among the Ruins in Idlib, Syria by Mounib Tayem, The Netherlands
"After the Syrian regime's campaign on Idlib and the Syrian forces' exit from the city of Neirab, the people of the city found all its homes destroyed.
"It was in the month of Ramadan in 2020. Neither the war nor the destruction prevented the people from holding a collective iftar, which is an important tradition for them in Ramadan."
Student Food Photographer of the Year Powered by the Royal Photographic Society: Amazonian Foodscape, by Kim Bainbridge, UK
"A fantasy scene that could be somewhere in the dense Amazon jungle made of food."
Youth (10 and under): Peach from Maja Kowalczyk, Poland
"One of my favorite summer fruits, pictured under a tree in our garden."
The exhibition of all finalists can be seen at The Royal Photographic Society in Bristol from Saturday 20th May until Sunday 11th June.
All photos courtesy of Pink Lady Food Photography of the Way 2023