As white elephants go, few come in larger than £25m. That's the cost of the high-tech border control centre, built to government specifications to handle post-Brexit checks on goods entering the UK, which is located near the waterfront at Portsmouth International Harbour.
The building has been empty and unused for nearly a year since its completion, after the UK government announced in April last year that the introduction of post-Brexit import checks would be delayed for the fourth time.
Since then, ministers have changed their plans for how goods will be checked as they enter the country, and a full border strategy is expected to be unveiled next month. Meanwhile, the local council is facing a bill of £10 million to cover its debts, maintenance and the cost of meeting the changed new requirements.
"It's frustrating," says Mike Sellers, director of Portsmouth International Port, as he surveys the empty rooms inside the massive, modern building. "Because we built to the design specified by the government… So we did what they asked for, and we built it at the right time."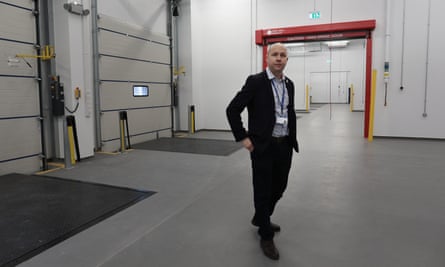 Physical checks of fresh produce entering the UK from the EU and the rest of the world, including meat, plants and forest products, were expected to start on July 1 last year, after a series of delayed deadlines.
But it was again postponed to April 2022 amid industry reports that neither the required infrastructure nor the technology would be ready. The then Brexit Chances Secretary, Jacob Rees-Mogg, said at the time that it was a mistake to impose new checks during the cost of living crisis, and risk an increase in food prices.
Since then, ports, merchants and businesses have been awaiting the government's new post-Brexit border strategy, known as the Target Operating Model (TOM), which was originally expected last fall.
The offers were eventually published in April and the industry consultation window closed earlier this month. Under the plans, the UK's import regime will be lighter and require fewer physical checks on certain types of imports than previously envisioned.
Goods from abroad that are subject to SPS controls – including imports of live animals, animal products, plants and plant products – will be classified as low, medium or high risk according to type and origin.
TOM proposes phasing out import inspections in three phases over the course of a year, starting in the fall. From 31 October 2023, importers will be required to have sanitary certificates for medium-risk animal products, high-risk foods and high-risk feeds not of animal origin in the European Union, as well as phytosanitary certificates for medium-risk plant products from the bloc. .
Physical checks at UK borders start on January 31 next year – when border control points in places like Portsmouth finally start, although fewer checks than originally expected – while safety and security announcements will also be required from October 31 2024.
Looking at the proposed lighter touch checks, Portsmouth Borders now looks like a bit too much, with plenty providing a potential surplus to requirements. It houses 14 lorry lorries and has been designed to receive low and high risk goods entering the UK including meat, plants and forest products, and to allow their inspection in closed quarantine areas to prevent cross contamination.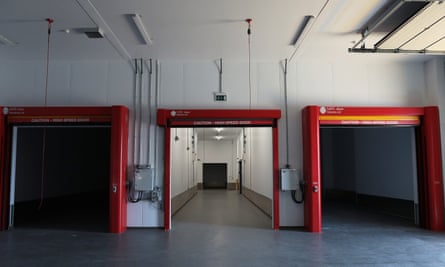 The facility at the UK's second-busiest cross-channel port cost £25m to build, receiving £17.1m of taxpayer funding through the government-covered Port Infrastructure Fund, about half of its £32m request.
Despite the modifications to cut costs, the port's owners, Portsmouth City Council, had to take out a loan to cover the shortfall, which Sellers says cost the city's taxpayers £5.4m, and still has to be repaid. Running the lights and freezers the previous summer when electricity rates were too high—which he was obliged to do, being responsible for any defects in the building's first year—is estimated to have cost an extra £500,000.
If the government had laid out its latest border strategy immediately after Brexit, Sellers says the port would have been able to build a much smaller facility, costing about a fifth of what it has already spent. Worse, it faces spending more to adapt the facility to the new requirements – or even to build a second facility.
"There remains £5.4m of council debt, if you will, plus whatever it would cost to either make this facility fit for the target operating model, or build the replacement, which could be another £4m or £5m." ," He says.
"I think by the time we're done with this, my best guess is we'll have spent the best part of £10m for quite a few inspections that will come through the port, and we'll still have to recoup that cost."
Ports will be able to make money charging importers for checks for goods. However, Sellers says it's not clear what the standard rate would be, as charged at the government-run Inland Border facilities, which were built in places like Dover and Holyhead where there was no room for a station checkpoint. The government proposals have not yet specified the cost, but have projected it will be between £20 and £43 per shipment.
Richard Ballantyne, chief executive of the British Ports Association, says: "Unfortunately, TOM does not have everything we need in the port sector. This, at least, continues to fuel uncertainty and frustration and, more seriously, threatens readiness timelines."
Reaction to the New Frontier plan in the food sector has also been mixed. While the National Farmers Union (NFU) and some traders welcomed the proposals, others warned that imposing checks could lead to holes on shelves if exporters decide to skip the paperwork and stop sending produce to Britain.
The National Farmers Union argues that the lack of controls on goods entering Britain since Brexit has been a "major area of ​​concern" for UK farmers and risks creating an uneven playing field. The European Union carried out border checks on British goods at the start of 2021, while exporters from the EU have had near-frictionless trade with Britain.
Shane Brennan, chief executive of the Cold Chain Consortium, the trade body representing the refrigerated supply chain, believes smaller EU food producers will "not be bothered with the paperwork" required in the future, and many will stop supplying Britain altogether, leading to temporary gaps. On shelves like the one seen earlier this year for fresh produce.
"European Union companies in northern Italy or rural Germany may not have thought about Brexit much in the past few years," he says. "Now we have to tell these producers to do a compliance load that they are not currently doing. They are not exporters, and so far they have only served the single market."
Brennan believes the impact of the post-Brexit checks is yet to be felt in the UK, as the country is, for the most part, a food importer rather than an exporter. It also warns that the additional cost and complexity of inspections at the proposed limits could keep annual food price inflation — already at the high level of 19%, according to official figures released last week — higher for longer.
A Cabinet Office spokesperson said its new border strategy "will provide protection from security and biosecurity threats, while preventing delays at borders by reducing the need for physical checks and ensuring that checks are carried out away from ports where it is necessary to allow traffic to flow freely." .
They added that the decision to remove the requirement for certification or physical checks for many low-risk commodities would help "save around £400m to UK importers annually compared to the previously proposed model".